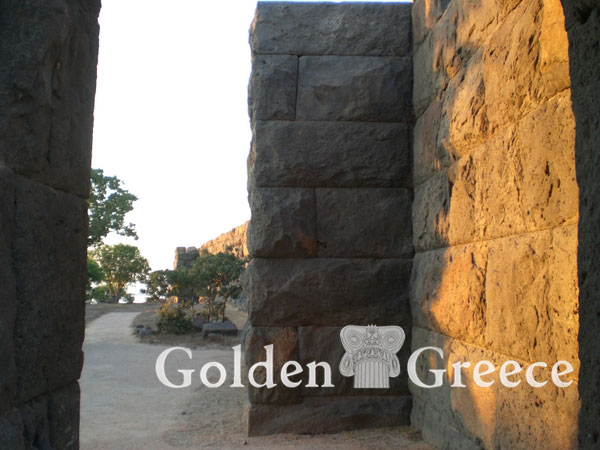 The fortification of the ancient city of Nisyros can still be seen today crowning the hill that rises above Mandraki.
It is one of the best preserved ancient fortifications in the Aegean. The wall is built on top of the low hill above Mandraki. For its construction, large bricks of volcanic black stone were used in pseudo-isodomic construction inside and outside, while its interior was filled with pebbles. Its average width is 3.50-3.80 m.
On the outer face of the wall, north of the gate, is engraved the inscription 'DAMOSION THE VILLAGE FIVE FEET FROM THE WALL', which defines the width of the public zone outside the fortification which was to remain free from any use for defensive reasons . The inscription dates to the third quarter of the 4th century. p. X. and contributed to the dating of the wall.
The length of the wall preserved today in its southern part is 230 m., while in the eastern 80 m. it is reinforced with rectangular towers, of which six survive on its southern side and two on the eastern. In the south-east corner of the wall is the only surviving gate of the wall, in a spot unseen and protected. For additional protection, the corner tower of the wall is erected opposite it. The gate, 2.10 m wide, is preserved intact and is covered by elongated stone plinths, more than 3 m long.
In very good condition, there are two stone stairs going up along the eastern leg of the wall. Of these, the southernmost preserves 15 steps, while the second preserves 18 steps. Similar ascending stairs existed on the inner side of the southern leg of the wall, of which only their base is preserved today.
The corner tower of the wall, opposite the gate, is 8.50m long. and 9 m wide. The other towers have similar dimensions, which were solid, i.e. filled with building material in their lowest part. The fifth consecutive tower on the south side presents different masonry, which is a newer reconstruction of a tower that may have collapsed. It is built with a level masonry system and with the interposition of battic bricks at intervals between the roads. This characteristic wall painting, which came from Greater Greece and is often found in fortifications of the Aegean and the Asia Minor coast, dates the tower to the end of the 4th or even the beginning of the 3rd century. p.X.
The wall surrounded the ancient city of Nisyros, which has not yet been systematically excavated.
Editor: Fotini Anastasopoulou