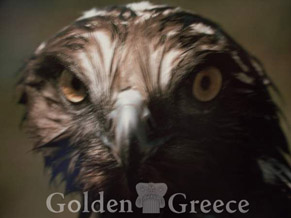 In the middle of the prefecture of Evros, 13 km southeast of Soufli, the forest of Dadia dominates, covering the southeastern hilly ends of the Rhodope massif. The area was declared protected in 1980 and includes two zones of strict protection, an area of ​​72,900 acres.
In the forest complex, the landscape shows great diversity with a strong relief. The quiet hills are grooved by dozens of ravines and small rivers, the mature pine and oak forests are interrupted by small clearings and alternate with meadows, pastures and crops, while steep slopes and rocks emerge unexpectedly in the landscape.
The forests of the area include centuries-old black and rough pine trees, while the meadows are home to many wild flowers such as irises, anemones, orchids and peonies. Many mammals (wolf, jackal, roe deer, squirrels, bats) still find shelter in the dense stands of the forest, the number of which exceeds 45 species.
The reptile fauna that is the main food of birds of prey includes a total of 40 different species (snakes, frogs, turtles, lizards).
Editor: Fotini Anastasopoulou