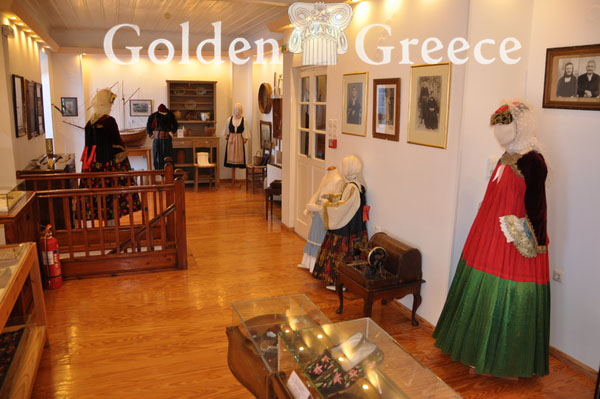 It has been operating since 1992 and is housed in a three-story building from 1765. The building is a donation to the Municipality from the historic Hatzistamati - Nikolaidis family.
On the ground floor the large panels of the Museum will inform you about the history of Skopelos, its customs and manners. On the first floor you will find the collection of traditional costumes of Skopelos starting with the bridal morko, the costume that started to be embroidered together with the daughter's dowry. Its bulk and weight made it difficult for the bride while containing the shirt, the stuffing (four white petticoats), the stuff (a sleeveless cotton dress embroidered), the aneturali (a beautiful embroidered shirt), the babukli (like a backless short fur, usually embroidered with gold threads), the headband and the kounduras (velvet pasumakia embroidered with gold), with the stockings.
It is also worth seeing another beautiful costume, the red-green morko, which was worn as a wedding dress. Young girls, when they finished school, started wearing dresses. Inside the house they wore the geranium costume, with a colored apron and headscarf. The collections are completed with a series of pictures, embroideries, black and white photographs, many of which are a gift from the Nikolaidis family. Finally, you will also see the old Skopje men's costume, consisting of trousers and a waistcoat.
On the first floor of the Folklore Museum you will find the collection of the Georgaras family with beautiful complex embroidery with very fine thread and a lens.
On the second floor, there is the ceramic collection of the renowned Rodiou family with the archaic vases with the clayey soil of Skopelos as the main material.
The collections are enriched by the amazing shipbuilder - small craftsman of the island Triantafyllos Mttoundalas whose skillful hands give birth to boats, trachantias, barkalades and chernikias. You will still have the opportunity to see the representation of the tarsana (traditional shipyard) of Skopelos, his work. On this floor you will also see the workshop of barba Yiannis Lemonis the knife maker, waiting for the artist and creator to make the famous knives with animal horn handles and to write the famous quatrains similar to those dedicated to him by the poet Giorgos Seferis.
Editor: Fotini Anastasopoulou