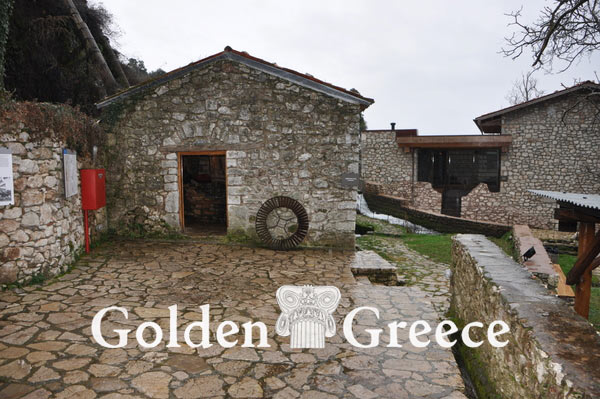 The Outdoor Museum of Hydrokinesis is located in an area of ​​exceptional natural beauty, in Kefalari of Ai-Yiannis, just outside of Dimitsana. It is a set of installations and hydraulic mechanisms that were restored with the purpose of museum utilization and promotion. It consists of a water mill, a flour mill, a tannery, a gunpowder mill, as well as the miller's residence, the tanner's residence and a rough installation for a raco boiler.
Each of the restored buildings of the old traditional laboratories has a permanent exhibition with thematic content related to the laboratory in which it is housed:
In the watermill-watermill building there is informational material and objects relating to the operation and use of the watermill and the flour mill, as well as nutrition and clothing in the pre-industrial society.
In the tannery building, all the phases and stages of the pre-industrial processing of fine hides are presented in detail, as well as the tool equipment that was used.
In the building of the gunpowder mill, where the old black powder production mechanism has been restored, there is a permanent exhibition with informative material on the history, production and trade of gunpowder in the wider Mediterranean and Balkan area (18th - 20th centuries).
Informational material (texts, drawings, maps) in the outdoor areas gives information on the other forms of water energy use.
In the region, the research has identified over 100 - now in ruins - water-powered installations, witnesses of the technology with which the traditional communities of the region covered their basic needs as early as the 16th century. The purpose of the Open Air Museum of Hydrokinesis is to rescue and showcase this technology, while contributing to the promotion of the until recently abandoned area by promoting alternative forms of tourism.
Editor: Fotini Anastasopoulou