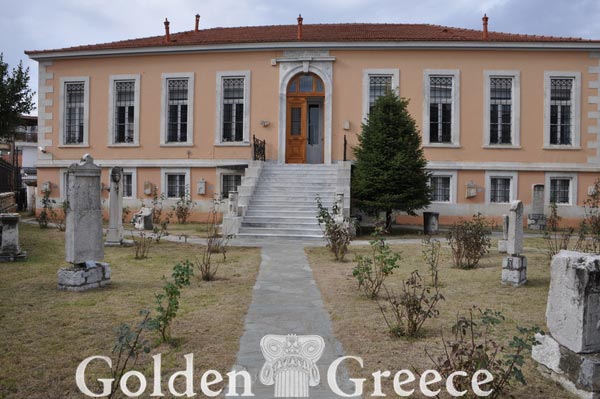 The Archaeological Museum is located in the center of Tripoli, near Kolokotroni Square. It is housed in a very beautiful two-story neoclassical building, built according to the plans of the architect Chiller. In the past, the building housed the "Evangelistria" hospital. It includes 8 rooms in which finds from the excavations of ancient sites in Arcadia are exhibited.
On display are Neolithic and Proto-Hellenic objects and utensils from recent excavations at Sakovuni in Kamenitsa, Arcadia, and a rich collection of Late Mycenaean and Sub-Mycenaean Periods from the Paleokastro of Gortyna and findings from the excavations at Herodes Atticus' mansion in Eva Kynourias. Geometric Age findings from Mantinea cemeteries and ceramics, sculpture from Archaic to Roman times are also exhibited.
In the museum there are 3 rooms with sculptures and reliefs from Archaic to Roman times from places in Arcadia, a room with bronzes (vessels, plates, figurines, etc.) from Classical to Roman times, a room with inscriptions, contracts, resolutions, etc. of the Arcadians, as well as a special room (of Arcadian sanctuaries) in which small objects, figurines, bronze objects and ceramics of various periods from Arcadian sanctuaries are exhibited.
There are also a few findings from the Early Christian and Early Byzantine Periods. 50 tombstones and inscriptions are exhibited in the Museum's garden.
Among the most valuable exhibits of the Museum is the unique in Greece collection of cult figurines (including signs) from the Early Helladic period from Sakovuni. Also, the hologlyph seated statue of a goddess (probably Athena) from Asea, finds from Palaiokastro, including a false mouth amphora decorated with plant, sea and geometric themes as well as exhibits from the Palace of Herodes Atticus.
Source: UNIVERSITY OF PATRAS
arcadia.ceid.upatras.gr