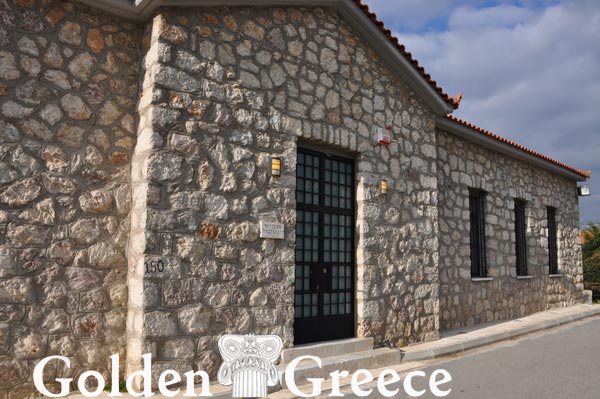 The small stone Museum of Tegea was built in 1908. It is located in Alea, which is 12 km from Tripoli.
Most of the Museum's exhibits come from the site of the excavation of the temple of Alea Athena, from the 4th century BC, a time when the famous sculptor Skopas worked as an architect and also as a sculptor of the pediments of the temple of Athena, from Paros.
The museum is one of the most important provincial museums of the country, because it is the only one that gathers a large number of works by the great artist of antiquity Scopa.
The exhibits of the museum give an insight into the culture and history of ancient Tegea.
In one room you will admire bas-reliefs of the Skopada style, parts of statues and statuettes from the temple of Alea Athena, as well as potsherds from the excavations in the same area. Worthy of attention are the works that come from the architectural decoration of the temple of Alea Athena and are the works of Skopas and his students. Among the works derived from the sculptural decoration of the pediments of the temple are the head of the mature, bearded Herakles with the lioness, two vigorous, young female torsos which are thought to have been placed on the capes of the monument. The preserved fragments of the plant architectural decoration of the temple's superstructure are admirable, such as the gutter with a lion's head and part of an Ionic trident with elaborate, relief decoration.
In the other two rooms, finds from various regions of Arcadia are exhibited, as well as clay, metal and bronze objects, tombstones, as well as various objects from the excavations in other areas of Tegea.
In the small hall at the entrance, two imposing marble thrones are exhibited which come from the ancient theater of Tegea, were intended for public figures of high prestige and date back to the late classical times. In the same room, torsos of statues and a copy of the "head of Health" are exhibited, as the original is in the Archaeological Museum of Athens.
Among the exhibits stand out a torso of Nike, a colossal head of Asclepius from the Hellenistic period, a relief plaque from the sarcophagus decoration depicting Achilles dragging the dead Hector outside the walls of Troy, a relief plaque with a representation of the god Pan, etc.
The last room of the museum includes, in addition to sculptures, two showcases, with characteristic clay and metal votives from the temple of Alea Athena as well as clay figurines of seated and female figures from earlier excavations from the sanctuary of Agios Sostis Tegea. Moreover, the two tombstones with a relief representation of a warrior stand out.
Source: UNIVERSITY OF PATRAS
arcadia.ceid.upatras.gr