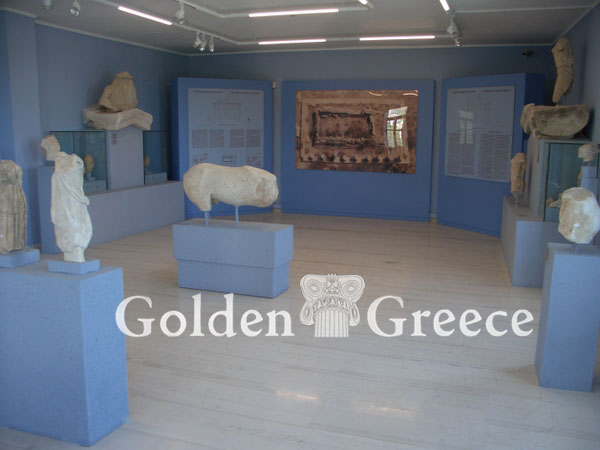 (84002 Ioulida Keas tel. 22880 22079)
Kea is the island of the Cyclades that has always fascinated with its natural beauty. The inhabitants of ancient Kea have always participated in major historical events. The four cities, Iulis, Karthaia, Korisia and Poiiessa, quickly developed solid political institutions and experienced great prosperity.
Parts of the pediments of the temple of Athena are exhibited in the Archaeological Museum. From the fragments of the Enaetian sculptures we conclude that the southern pediment had as its subject the Amazon battle with Athena in the center, while the capture of Antiope by Theseus was in the position of the promontory, as evidenced by two architectural members, on the top simi of the southern side, which they bear the inscriptions Theseus and Antiope.
Despite the political fragmentation of the island, the sense of unity is reflected in its myths, while inscriptions attest to the periods of political unity of Keos. These epigraphic testimonies are presented to the general public in the exhibition of the Epigraphic Museum entitled "Civilization of the Keians by cities. The division as a means of political control". This exhibition highlights and illuminates the forms of political union formed by the cities of Kea in the 4th and 3rd centuries BC.
The first exhibit, in the initial section, the list of winners of pan-Hellenic games from Ioulida, declares the dynamism and pride of the Keians for those who managed to give their island pan-Hellenic glory even in peaceful periods.
Kea's relations with Athens, undisputed power in the critical area of ​​the Aegean and in the 4th c. BC, are the subject of the second section. The island's abundant deposits of milt, a mineral necessary among other things for the long maintenance of Athenian ships, are of particular interest to Athens, which does not favor the union of the cities of Kea. He does not even hesitate to violently intervene in the island after the defection of the Julians from the Second Athenian alliance in 364/3 BC. and to demand the political fragmentation of Kea, in order to impose its policy.
The third section illuminates the relations of Kea from 394/3 BC. and so on with the Eretrians and in the next century with the Aetolians at a time when the powerful (Athens, Sparta, Thebes) are no longer able to impose themselves dynamically in the Aegean area, much more to provide guarantees of protection to the small island societies.
The last section of the exhibition takes us to the 19th century, a time when the local scholar Konstantinos Manthos (1826-1890) was active in Kea. His handwritten texts provide valuable evidence for the archaeological and epigraphical research of the island, while his undying love for the antiquities of his homeland saved the ancient testimonies themselves.
Editor: Fotini Anastasopoulou