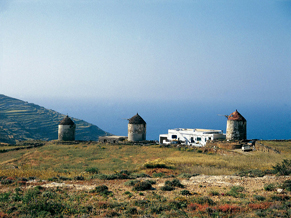 The Folklore Museum of the area is hosted in one of the traditional 19th century festivals. The "themonia" is a characteristic type of farmhouse, which is a well-organized and autonomous agricultural or livestock unit. The walls of the hayloft are built of stone and mud, without plaster on the outside so as not to be distinguished by pirates. The roofs are built with special soil mixed with seaweed, while the ceilings with slabs and beams from a local tree, "tis feides". The floor is made of rammed earth, "the patosis". The only available water was rainwater, which flowed from the rooms into the cisterns.
In this area you can see how this typical rural residential unit as they characterize it worked, but also many other elements of the daily life of the locals until the middle of the 20th century.
In the outdoor area of ​​the museum, the small threshing floor and the most primitive winepress in the middle of the courtyard, in a carved rock, have been preserved. Also preserved in the courtyard is the stone cylinder, on a circular pedestal, where the olives were crushed. In the olive press, the system with the lever is preserved, which presses the bag with the olive pulp and from there the oil flows into a clay container. To equip the premises of the Folklore Museum, old objects were collected from other old barns, such as looms, looms, baskets, etc.
In the newer building of the late 19th - early 20th century, period objects were collected, the walls are whitewashed inside and out and in general, the younger, neo-Greek era can be seen.
Editor: Fotini Anastasopoulou