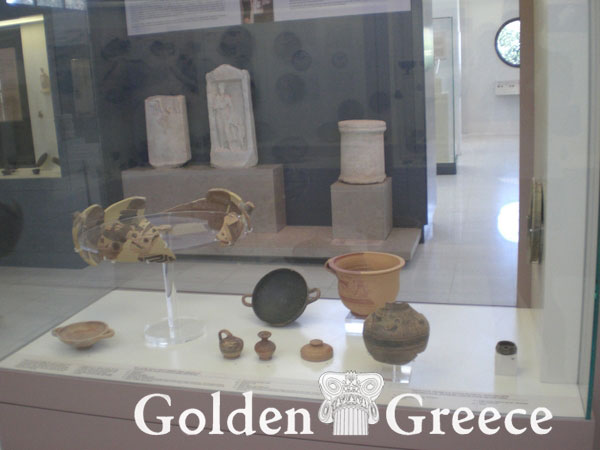 On the ground floor of the Archaeological Museum, in the first room, the findings from the prehistoric settlement on the volcanic island of Gyali, opposite Nisyros, are exhibited, which date to the Final Neolithic period (4th millennium BC).
Then, in a large single space, the rich finds from the necropolis of the ancient city are displayed, which date back to the archaic, classical and Hellenistic periods. The rich ceramic finds, mainly flat panels (plates) decorated with written representations that exude vitality, belong to a characteristic rhythm of eastern Doria and are attributed to the Nisyros workshop, although it does not seem likely that they were produced on the island. The 4th c. BC, the century of great prosperity for Nisyros, when the city was fortified, which is located on the low hill southwest of Mandraki, is depicted with characteristic photographs, for more complete information for the visitors. Also on display are findings from the extensive cemetery of the classical period (4th BC) in the area of Ai-Giannis, as well as from the tombs found on the south side of the hill of Paliokastro, where abundant grave goods were found, among which stand out red-figure or black-painted vases (most of which were imported from Attica), many clay figurines and a few jewels.
In a small addition, a part of the classic cemetery has been recreated by placing on a layer of soil three gravestones and a sarcophagus with the finds of each burial. From the 3rd c. p. X., from box-shaped tombs, offerings are displayed among them clay and few glass vessels.
There are also sculptures, most notably the lower part of a tomb relief with a representation of a seated woman (end of the 5th century BC) and the base of a war votive with a relief of military equipment (2nd century BC). Also, the museum's exhibits include inscriptions, including resolutions, honorary inscriptions, votive inscriptions to the main deities of the island, inscribed statue bases and tombstones, as well as funerary reliefs of the late Roman period, products of unskilled labor of a provincial workshop.
On the lower floor of the Museum are exhibited finds and photographs from the early Christian, Byzantine and post-Byzantine Nisyros: early Christian capitals of the 5th and 6th centuries. AD, depiction of the mid-Byzantine icon from the catholicon of Panagia Spiliani, parts of frescoes from the Byzantine churches of the island, visual material related to the most important churches and knightly castles, portable icons from the post-Byzantine churches of Nisyros.
At the same time, post-Byzantine panels recovered from a shipwreck near the island are also on display. Finally, in the courtyard area of ​​the Museum, protected by built canopies, you will see various sculpted marble members, such as large sculptures, statue bases, tomb reliefs, etc.
Editor: Fotini Anastasopoulou