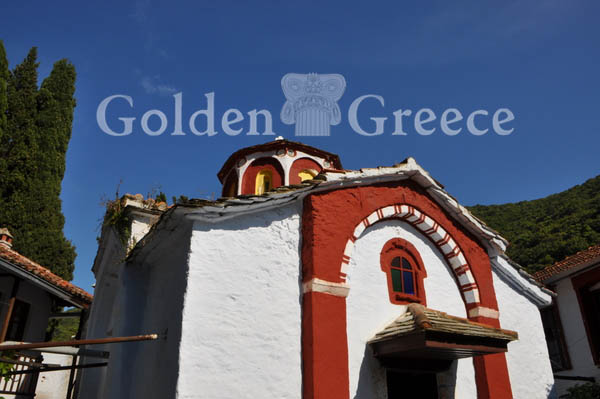 It was built in the late 15th-early 16th century. In 1636 it was designated as a Stauropigian Monastery with a Patriarchal Seal, while in 1770 it was donated by the Evangelical family to Papa-Paisios the Kawsokalyvitis. The Monastery is part of the Xenophon Monastery of Agioreita. The katholikon (temple) copies the architecture of Hagia Sophia. Inside is the old icono of the 16th century with special floral decoration. There is a series of portable icons from the same period, some of which are the work of the Byzantine iconographer Agorastos. In 1821 the Saints fathers brought heirlooms and holy relics to the Monastery to save them from the Turkish threat.
The monastery is divided into 2 wings, in the south (mansion, guest house, kitchen, monks' cells) and in the north (in a tower-like building are the chapels of St. John the Theologian and the Grand Master). On the eastern side stands the tower of the monastery, which was used as an observation post to guard against pirate raids.
On August 6, the biblical event of the Transfiguration of the Savior is celebrated. On the day of the feast, the wish for the blessing of the grapes is read and grapes are distributed to the pilgrims.
Editor: Fotini Anastasopoulou