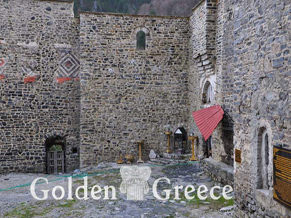 The old monastery of Agios Dionysios is 18 km from Litochoro and is built at an altitude of 900 m on Mount Olympus. The monastery is perched in a natural hollow between two small streams that flow towards the Enipeas River.
The Holy Monastery of Agios Dionysios in Olympus is probably the most important Monastery in the prefecture of Pieria.
According to the historical sources, the monastery was founded in the first half of the 16th century by Saint Dionysios who was an ascetic in a nearby cave, which was called "Holy Cave". The oldest name of the monastery was Agia Triada.
It had a rich library and workshops for copying manuscripts and iconography.
In the period of the Turkish occupation, it was a base and refuge for the fighters of Olympus, while it showed economic and spiritual prosperity.
During its 400 years of life it provided the religious and financial support for this part of Olympus. It included part of the forest at Prionia, a water mill, a flour mill and a farm.
The Turks destroyed the monastery in 1828. It has since been rebuilt but suffered damage from fires.
From the beginning of the 20th century it functioned with only six monks. It was a favorite place of pilgrimage for the inhabitants of central Macedonia and mountaineers.
Until 1928 the Monastery was a Stavropigian, Patriarchal under the jurisdiction of the Ecumenical throne. In 1928 it was included in the New Countries.
In 1943 it was destroyed twice, by a bomb and by an explosion, by the German occupying troops as it was an ambush for freedom fighters.
Today, the northern and southern wings, the tower that protected the entrance to the monastery, the fortified enclosure and parts of the temple are preserved.
You can reach the monastery from the forest road that leads to Prionia, from where the ascents to the highest peaks of Olympus begin.
Editor: Fotini Anastasopoulou