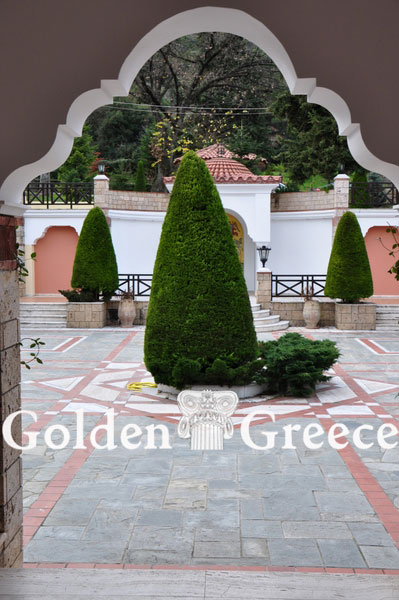 The Monastery of Panagia Dobra is built on the eastern slopes of Vermio and is a few kilometers from the town of Veria.
The monastery dominates between two hills, in an idyllic landscape surrounded by dense vegetation.
It is dedicated to the Dormition of the Virgin and is one of the oldest monasteries in the region. The date of the establishment of the monastery is unknown, it is assumed that it was founded in the 12th century, however the first safe testimonies about its operation come from documents of the 17th century, while it operated continuously until 1822.
The greatest historical moment of the monastery is connected with the Greek revolution of 1821 and the heroic struggles of the Macedonian chieftains and residents of the area for freedom. In the uprising of 1822 the monastery was looted and burned by the Turks in the famous battle of Dobra.
After long-term efforts, the monastery was restored, while in 1950, a Peidoupoli named "KALI PANAGIA" was built on an adjacent area for orphaned and needy Greek children, which operated in an organized manner, under the supervision of the National Welfare Organization, until 1986. A period of abandonment of the monastery followed
. , so in 1995 the monastery was re-established and since then it has been operating as a men's monastery.
The reconstitution of the monastery was also accompanied by a major renovation of the buildings while preserving the old architecture. In the old katholikon, which is a timber-roofed three-aisled basilica with an external gallery, all the oldest architectural members were preserved, the ornate wooden Macedonian ceiling was renovated and preserved, while windows, pews and the iconostasis were replaced.
With the same architectural rhythm, new buildings were built: the mansion and the monks' cells. The Sanctuary of Zoodochos Pigi was also reconstructed and the forecourt was shaped.
Since 1995, a School of Byzantine iconography has been operating in the old buildings of Paidoupoli, attended by 150 students per year.
Editor: Fotini Anastasopoulou