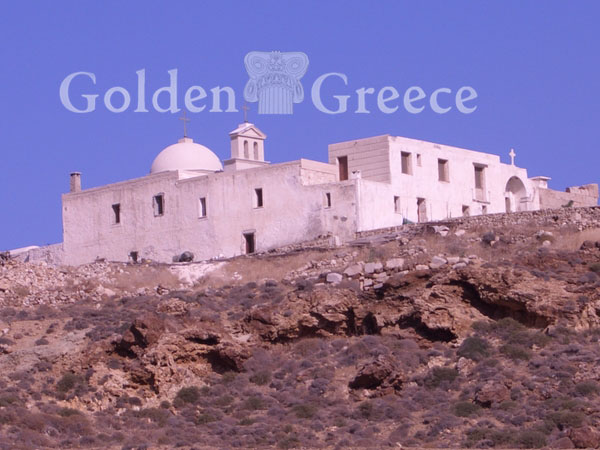 At the foot of the majestic Kalamos rock, at the eastern end, at the end of the main street, is the monastery of Zoodochos Pigi, built in the precincts of the Ancient Temple of Apollo Aiglitos.
The monastery of Zoodochos Pigi (or Monastery of Kato Kalamiotissa) is surrounded by a high wall of carved stones that formed the enclosure of the ancient temple. To the right of the entrance is the ancient temple of Apollo. In the enclosure there are cells, storage areas and in the center of the courtyard is the small chapel of Zoodochos Pigi, which is the monastery's catholicon. It is a single-aisled temple with a dome, while it also has a newer bell tower. . The church was built in 1887, where the icon of Panagia tis Kalamiotissa was transferred from the Upper Monastery, the Monastery of Ano Panagia tis Kalamiotissa. After the earthquake of 1956 it was damaged. The monastery of Panagia Kalamiotissa with stauropigeon privileges since the middle of the 18th century has not had monks for about 60 years.
The ancient building material, well-made plinths made of marble or local stone, was used for the construction of the monastery's facilities, where several inscriptions were embedded. The Bank of the monastery, to the right of the entrance, is part of an ancient building. In the courtyard of the monastery on a large area there are scattered architectural members, such as vertebrae of columns.
Editor: Fotini Anastasopoulou