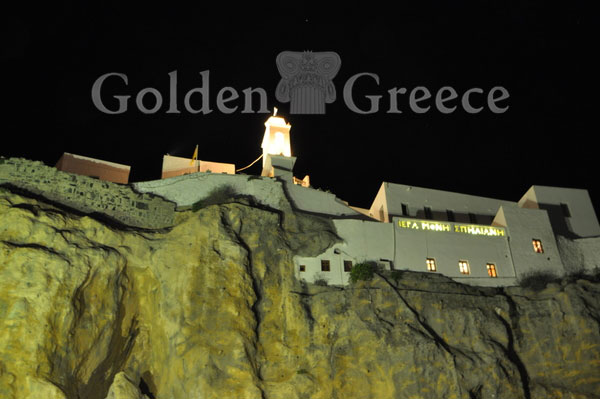 Panagia Spiliani is an imposing castle-monastery located on the opposite side from the port (NW from Mandraki) and rises on a 30 m high rock. On the land side, it is closed by the Venetian fortress of the Knights. It was built around 1600, because since then we have the oldest documented evidence of the existence of the monastery. Panagia Spiliani is the patroness of Nisyros and an important cult center since at least the beginning of the 18th century.
The church of the monastery (the catholicon) is shaped in a cavernous natural cavity and is in the style of a single-aisled basilica with a rectangular quadrilateral plan, while it is adorned with a beautiful well-made iconostasis of the 18th century.
270 steps lead to the holy Cave, where the miraculous icon of Megalochari is kept. The icon of the Virgin is two-faced. On the reverse side, Saint Nicholas is depicted and on the main side, the icon of the Virgin Mary, dated 1600 AD. The image is plated with silver. In the Monastery there is a small library with Turkish and Greek books and documents. Among the relics kept there are ecclesiastical utensils, crosses, gospels and portable icons.
From Lagadi, 130 steps lead to the central courtyard of the Monastery. The inner courtyard of the monastery, which is surrounded by arches and covered with vines for shade, is surrounded by the cells of the monks. On the 15th of August, a great festival is organized in honor of the Virgin Mary, with the preparations of the locals starting from the 6th of August.
Editor: Fotini Anastasopoulou