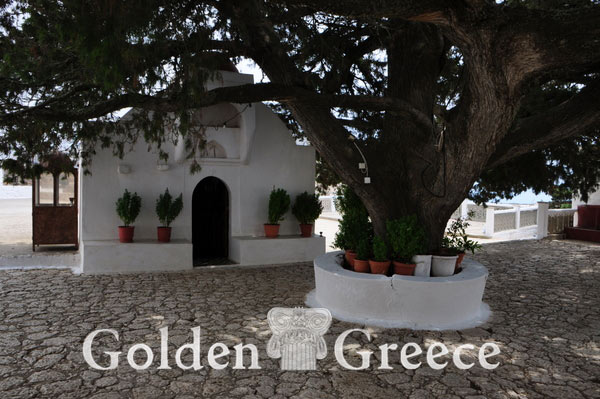 The monastery of Agios Ioannou of Alarka (or Alarga) or Makria is the most important pilgrimage on the island of Chalki. The monastery is dedicated to the Dissection of the Head of the Holy Forerunner (August 29). It is located in the west of the island, northwest of Emporio and at a distance of about 7 km, on the Amali mountain, at an altitude of 386 m.
The monastery of Ai Giannis of Alarkas is located in a fertile valley and in the past it was cared for by the farmers of the area. However, tradition has also connected the monastery with the spongers of the island, who considered them their patron saint when diving in the surrounding seas, while its despotic icons are donations from people who were engaged in sponge-making. In the despotic icons of the Catholic church of the monastery which is dedicated to the Dissection of the Head of John the Baptist and celebrated on August 29, the names of the "initiator", i.e. the operator of the sponging machine, Michael Savva, as well as the first mechanic of the sponging machine of Chalki, are written , by Anargyros Vardavas. One of the icons bears the date 1835 and the letters "IoAHSPTH", but it is possible that the monastery was built much earlier.
At the Saint's festival, they made sure that the spongers attended and feasted, as they were on the island at such a time.
On the eve of the feast of Agios Ioannis Alarkas, the monastery offers pilgrims lamb from its folds baked in the oven with potatoes or macaroni as well as various appetizers. The next day, breakfast with honey and a fasting meal are offered.
In the courtyard of Ai Yiannis of Alarkas, the great festival of Panagia Enniameritis or Etria takes place on August 23.
Editor: Fotini Anastasopoulou