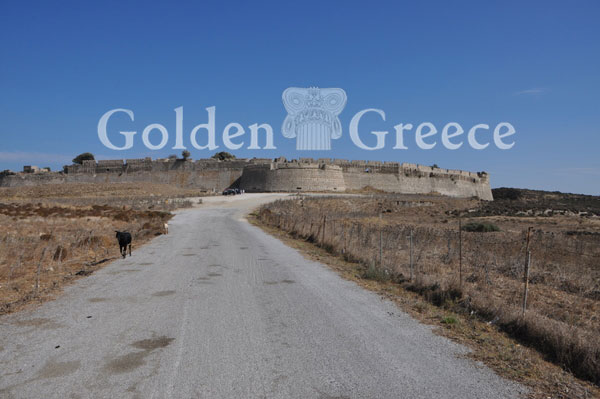 The castle of Antimachia was built according to information, which we derive from the John Archive of Malta, at the beginning of the 14th century. by the Grand Master H. de Vileleneue in a place where a small Byzantine castle previously existed.
Over time, the uses of the castle change depending on the needs. Since 1383, in accordance with the decision of the General Assembly of the Knights, it has also been operating as a prison for condemned Knights. Also, in three documents from the middle of the 15th c. it seems to be a fortified settlement, a castle state. Three churches are preserved inside the castle, the church of Agia Paraskevi, the church of Agios Nikolaos and the ruins of the church of Panagia Eleimonitria.
During the Turkish occupation, a mosque was built, now in ruins. To the north of Kardamena, built in a strategic position on a plateau of central Kos, dominates the imposing castle of Antimachia. The castle, founded by Helion de Villeneuve (1337-46), grand master of the Knights of St. John, who permanently occupied Kos in 1337, underwent repeated additions and renovations both during the Chivalry period and in the years of Ottoman rule after 1522. .
Inside the castle there are ruins of many buildings, mainly houses, since a Christian population continued to live there until the beginning of the 19th century according to the testimonies of travelers. Two temples are also preserved. The church of Agios Nikolaos preserves traces of frescoes from the 15th-16th centuries and bears a built-in plaque above the entrance, in second use, with the date 1520 and three coats of arms, one of which is identical to the coat of arms of the Grand Master Caretto. Agia Paraskevi is a single-aisled church that is covered internally with a pointed arch and dates back to the period of the Turkish occupation.
Editor: Fotini Anastasopoulou