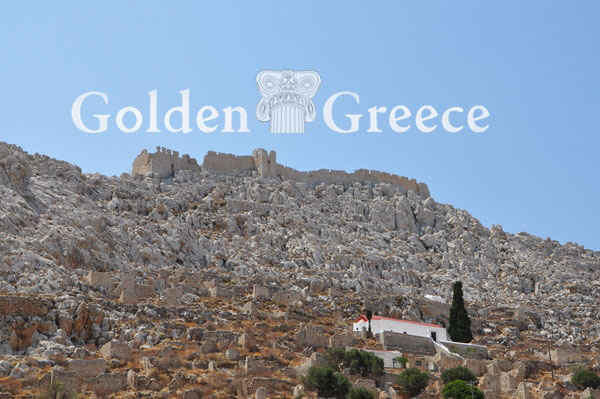 It is located in the northeast of the island, and stands on the foundations of the ancient wall and next to the ruins of the ancient city.
The Castle was built in the 14th and 15th centuries by the Knights of Agios Ioannis.
The order of the John Knights, when the lands that had been occupied in other regions of the East began to be lost, wanted to obtain a base in the Aegean, and thus occupied Rhodes and the surrounding islands.
After the occupation of Rhodes by the Ioannina knights, the same fate happened to Halki (1309), which in 1366 was assigned together with Tilos as a fief to Barello Assanti and subsequently rented in 1385 to Dragoneto Clavelli. An interesting episode in the years of the Knighthood is the migration of Chalkites in 1450 and 1492/1493 to Rhodes, in Vasilika and Amarto respectively, after the official approval of the Grand Master Pierre d'Aubusson (1476-1503), as we are informed by old documents of the battalion
Apparently the piratical raids of the Ottomans had made life difficult on the island, which, according to chivalric documents, could not protect and feed its inhabitants. Halki will be occupied by the Ottomans after the fall of Rhodes in 1522.
The medieval castle has the coat of arms of the Grand Master Pierre d'Aubusson (1476-1503) embedded near the entrance. Inside, the ruined church of Agios Nikolaos is preserved with remains of frescoes from the 15th and 17th centuries.
Source: Encyclopedia of Major Hellenism
www2.egeonet.gr