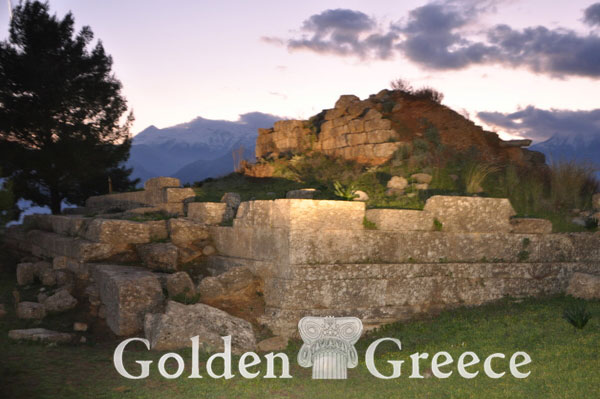 The archaeological site of Menelaios is located on the east bank of the Eurotas, 5 km southeast of Sparta in the area that was called Therapni in Archaic times and includes the ridge of a complex of hills ("Northern hill", Menelaios, Prophet Elias and Aetos).
The findings of the excavations in the complex of the hills of Menelaion indicate the importance of the location already in the Middle Helladic era, while the construction on the hill of Menelaion itself of a mega-shaped building - after the middle of the 15th century BC. (Late Helladic IIB)- which probably served as an administrative center, perhaps the seat of a ruler, testifies that it is one of the most important positions of early Mycenaean Laconia.
Subsequently, after damages suffered probably by earthquakes, the mega-shaped building was repaired twice until the 13th century.
At the top of the hill of Therapni of the historical times it started in the 8th century. BC, the cult of Menelaus, mythical king of Sparta and his wife Helen, which continued until Hellenistic times.
Tradition placed their tomb there and it began there in the 8th century. BC, the worship of the famous heroes and later gods, Menelaus and Helen, with the construction of an altar and an enclosure.
The construction of the first temple made of ashlar on the site should be placed at the end of the 7th century. p.X. or at the beginning of the 6th c. p.X. while the building interventions of the beginning of the 5th c. p.X. (construction of a monumental platform with an inclined plane on the west side which had as its purpose the creation of a majestic platform at least 8 m high) contributed to the creation of a sanctuary worthy of the mythical heroes of Sparta. For the ancient Spartans, the construction of the sanctuary on the hill of ancient Therapni should have been a special symbol beyond a special place of worship of the deified mythical ancestors.
The sanctuary of Menelaus and Helen, which according to Pausanias was located in Therapni, was identified at the beginning of the 19th century, after a small-scale excavation at the top of the hill of Menelaion.
In the 1970s and 1980s its identification was confirmed after finding inscribed shells of the 7th and 6th centuries. p. X., as well as inscribed bronze objects and an inscribed stele dedicated sometimes to Menelaus and sometimes to Helen.
The archaeological site of Menelaion, on the eastern bank of the Evrotas, is not only an important site for the history of Laconia, but also a particularly charming place for the visitor who, after climbing through olive groves, faces the impressive and unique architectural sanctuary of classical times and the preserved architectural remains of the Mycenaean era. From the top of the hill, the visitor has the opportunity to better understand the monumental topography of the Evrotas valley and to admire the natural relief of Taygetos.
Source: MINISTRY OF CULTURE AND SPORTS
odysseus.culture.gr