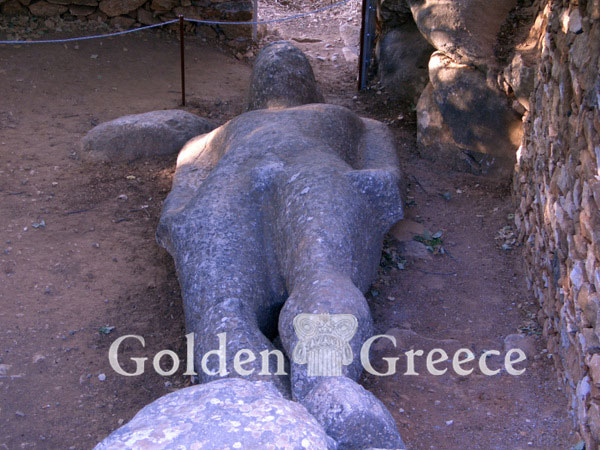 UNFINISHED KOUROS AT APOLLONAS
In the village of Apollonas in the northern part of the island, there were marble quarries in ancient times. Very close to the village, at the entrance to an ancient quarry, is lying on the ground, -from which it was never detached-, a half-finished statue of Kouros, 10.45 meters high, dating from the beginning of the 6th century BC and probably representing Dionysus. At the top of the hill of the quarry there is the inscription "oros horio ieron Apollonos" which dates back to the 5th to 4th century BC and probably belongs to a sanctuary of the god that existed there.
UNFINISHED KOUROS ON THE RIVER
Two unfinished monumental Kouroi, which are immovable in the place where they were carved, were found in Melanes, a mountain village east of Chora. One of them is in Flerio and the other in Potamia. From an uphill and difficult path that starts next to the place where Kouros is located in Flerio and after a route of 300-400 m you will discover the less known and visited Kouros of Naxos, the Kouros of Potamia. The processing stage of the statue is quite advanced but it is unknown why it has been abandoned at the point where the marble was quarried and its initial - wholesale processing took place. It may be the cancellation of the order or sudden political events, or perhaps the discovery of some imperfections in the marble during the first processing stage.
Editor: Fotini Anastasopoulou