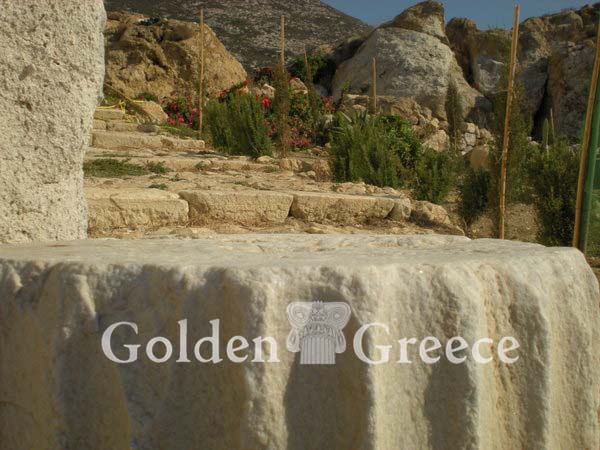 The building remains of the famous ancient temple of Apollo Aiglitis or Asgealtas, which was connected to the town with the stone-paved Sacred Way (parts of it are preserved to this day) have been located in the place where the Monastery of Kato Panagia of Kalamiotisa or Zoodochos Pigis is today. Parts of the masonry of both the temple itself and its enclosure are preserved to a considerable height, which are also parts of the current enclosure of the Monastery. The precinct is constructed isostructurally from stones of enormous dimensions and is preserved, even today, at a great height. After all, both the cells and various other buildings of the monastery rest on it.
The location where the sanctuary of Apollo is located, a little above the sea, is of particular beauty, which is why it was chosen by the ancients, who had built a large building complex that served the worship, but also the reception of the faithful. The statue of Aeglitis Apollo is on display in the British Museum. Alongside Apollo, other gods were worshipped, as there are altars to Artemis, Aphrodite, Asclepius and Zeus Ktesius. Ancient architectural members and building materials are scattered in the area, while many of them have been used for the construction of the Christian church and the monastery facilities. The temple was the focus of the religious life of the ancient inhabitants of the island and was connected by the 3km cobbled sacred road to the political center, Kasteli.
Every year there was a festival in honor of the god, the Hyacinthia.
Editor: Fotini Anastasopoulou