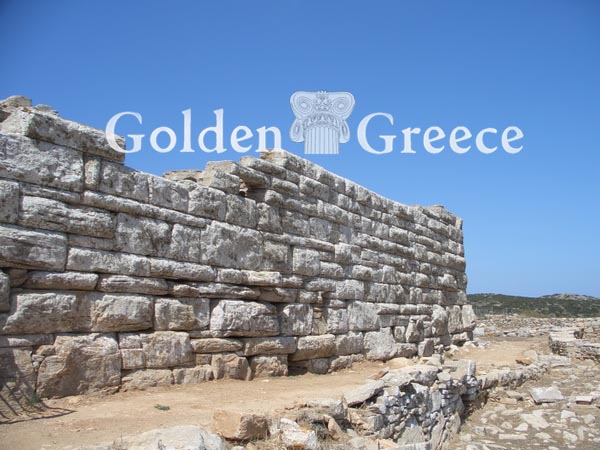 The tower of Agia Triada (or Basil's tower) a well-preserved ancient monument of Amorgos and the best preserved tower of this type in the Cyclades. It is located in the district of Arkesini, near the settlement "Sto Chorio", on a low hill. It is a complex consisting of a house, part of the fortification of which is the tower as well as a courtyard. The tower is rectangular with a surviving height of 5.60 m.
The monument has not yet been fully excavated. In the courtyard, walls from various rooms can be seen, while from the inside of the tower we only know the existence of a stone staircase that led to the first floor, as well as some triangular windows and two cupboards. The mobile finds testify that the area where the tower is located was in use since the 3rd millennium BC. until modern times. The tower itself dates approximately to the end of the 4th century BC. To the east of the tower, remains of farmhouses dating from the 4th century BC were found until the 7th century AD and a building complex of the Newer years, also of a rural character.
Entry to the tower was only possible via a portable ladder (ladder). Because of its position, it could control access to Arkesini and its port, as well as communicate with other similar towers by means of light signals. At the same time, it offered protection to the surrounding farmhouses and functioned as a fortified house, providing spaces for the storage of agricultural products and tools. It should probably have been built by a wealthy resident of Arkesini, because the economic situation of the city during the Hellenistic era was not so prosperous as to allow the construction of such buildings. This view is probably reinforced by the inscription KTISIFONTOS, engraved on a stone of the gate wall of the building of the main tower.
Editor: Fotini Anastasopoulou