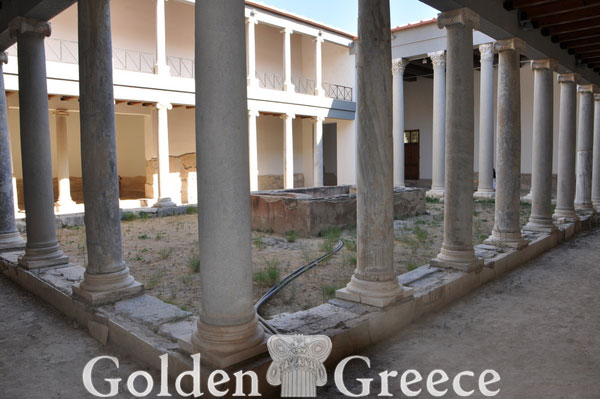 The first construction phase of the Roman house or Casa Romana, as it is better known, dates back to Hellenistic times (a sample of Hellenistic masonry can still be seen on the external north side of the building), while its use - after various repairs and rearrangements - lasted at least until in the 3rd century m.X. The unusually large size and the rich decoration lead to the conclusion that the building complex belonged to a wealthy Koo official.
The form in which the building is preserved today dates back to Roman imperial times. The Roman house is organized around three atriums (inner courtyards), two of which are surrounded by impressive peristyles, two-story arcades with columns. The atriums are decorated with exquisite mosaic floors. The house consists of 36 rooms. Opposite the entrance was found the base of a statue or column with the inscription "APALEXIKAKOS" (=he who drives away evil). There was probably a statue or hermaic column of an evil-repelling deity that protected the house.
The first courtyard has a water tank and is decorated with a mosaic floor depicting a panther devouring a deer. Around the courtyard open rooms that are also decorated with mosaic floors, among them the mosaic depicting an underwater landscape (bythos) (exhibited in the Archaeological Museum of Kos), as well as a mural depicting a man. In the large southern peristyle, which has a small water tank in the center, the man's room (the main room of the house) looks out, but also other rooms in which traces of orthomarbling and mosaic floors with geometric ornaments, representations of tigers, panthers, etc. can be seen. In the northwest corner of the peristyle, near the staircase leading to the floor were the auxiliary spaces (kitchen etc.).
The manor communicates through a door in its western wall with a large banquet hall (triclinium) decorated with marble mosaics on the floor and orthomarbling on the walls. On the north side of this room opens the third atrium of the house with a water tank and a mosaic floor with a representation of Neris on a hippocampus. The central show is flanked by panthers and dolphins.
All the mosaics found in Casa Romana date back to the 3rd c. m. X. In addition, statues of Nymphs, Athena, etc. were found in the building, as well as the mosaic floor with a representation of the seabed, which are earlier and date to the end of the Hellenistic era.
Source: Ministry of Culture and Sports
odysseus.culture.gr