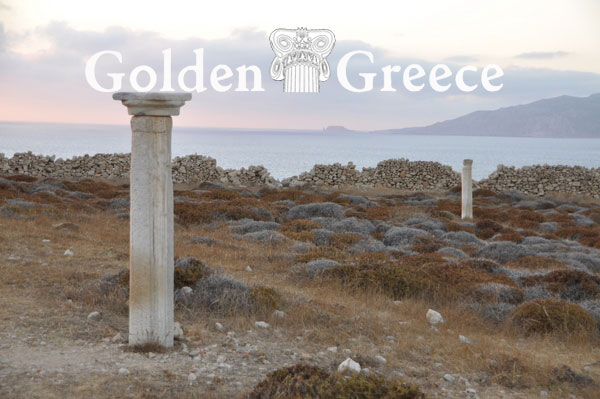 Arkasa was one of the four municipalities of the classical and later times. The lifetime of the settlement cannot be determined because there is no evidence from excavation data.
The archaeological site of Arkasa consists of the Acropolis of Palaiokastro with visible remains of fortifications from the Archaic times and towers from the classical and Hellenistic eras. Remains of buildings and tanks are preserved in good condition. The foundations of a three-bay basilica from the Early Christian period with semicircular arches and monolithic marble columns are preserved.
North-northeast of Paleokastro stretches the plain of Arkasa with two harbors in use since ancient times. Two early Christian basilicas have been excavated. The first and largest, but also the closest to the ports, is the early Christian basilica of the elder Alypos. After a disaster at the beginning of the 6th c. AD, the basilica is rebuilt with rich mosaic floors and with inscriptions mentioning Bishop Kyros and the name of the saint, to whom the basilica was dedicated, known as Saint Anastasia. The second large basilica excavated by the same excavators is the basilica of the elder Eucharist.
On the eastern side of the settlement, two mid-Byzantine churches are preserved, Panagia Marmarini and Agios Georgios.
At the location of Exiles, between Arkasas and Menetis, is the small church of Agios Mamas with a peculiar conical dome and frescoes from the 1300s.
Editor: Fotini Anastasopoulou