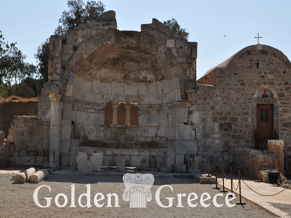 The most important archaeological site of Kalymnos is the sanctuary of Delion or Dali Apollo, next to the current settlement of Chora.
The sanctuary was the political and religious center of ancient Kalymnos and included religious and public buildings, which were erected between the 4th and 3rd centuries. BC Abundant finds, inscriptions, statue bases, vase fragments, figurines testify to the uninterrupted use of the space as a cult center. Besides the temple of Apollo, there was also a temple of Asclepius. However, apart from the religious buildings, there was a gymnasium, a parliament building and a theater.
A few years ago, several members of broken statues were found in a deposit, due to the destruction suffered by the sanctuary in the first Christian centuries.
According to the archaeological findings, the religious use of the area starts from the beginning of the 1st millennium BC and reaches the Early Christian era, when two large Christian churches were erected on the site, Christ of Jerusalem and Hagia Sophia.
Editor: Fotini Anastasopoulou