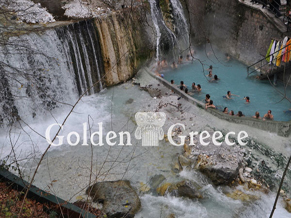 Near Aridaia, at the foot of Mount Vorras, are the famous thermal baths Loutraki (Pozar).
In a beautiful and green landscape, full of trees, waterfalls, rocks and a wonderful view, the visitor can also enjoy its unique, hot thermal springs. The Pozar Thermal Baths attract many tourists every year, who are looking for treatment, relaxation, well-being and rest. The hot springs are aimed at all those who want to include the natural, mountainous environment in their vacation.
The facilities of the whole complex are organized in a small spa town with hotels, swimming pools, changing rooms, restaurants, bars, offering every possible service to the bather.
Very close to Loutra is Loutraki Aridaias, just 2.5 km from the springs, which has been transformed into a modern tourist destination with a wide variety of guesthouses, hotels, restaurants, cafes, bars, etc.
But the area has a lot to offer to nature lovers as well. There is an excellent route, of unparalleled beauty, to its gorge, with "hidden" caves along the mountain and unique natural landscapes.
Loutra Pozar is undoubtedly one of the best locations in Greece that you should get to know, suitable for multi-day vacations or just short getaways and it awaits you all year round.
If you are interested in spa therapy, the therapeutic properties of water are recommended for:
diseases of the circulatory and respiratory systems
sciatica
bronchitis
neuropathies
rheumatism
chronic rheumatic arthropathy and general arthropathies
gynecological diseases
skin diseases
eczema
Positherapy is indicated for diseases of the liver, kidneys, bile, digestive and circulatory and urinary systems.
Editor: Fotini Anastasopoulou