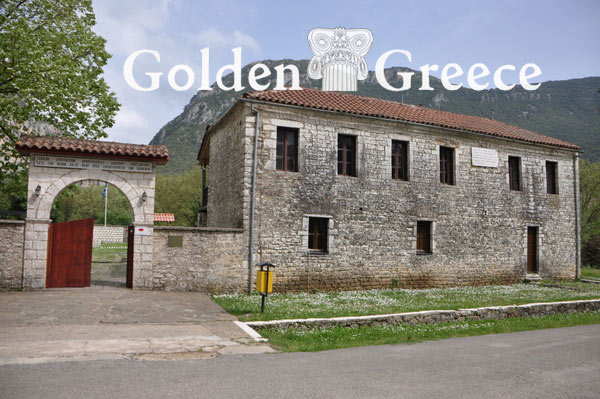 The War Headquarters Military Museum is housed in Hani Emin - Aga. It is located at the 29th km of the National Highway Ioannina - Athens, in the Municipality of Agios Dimitrios, at a distance of one kilometer from the National Highway. In the surrounding area there is a large number of historical Monuments and Heroes from the war of 1912-1913. The museum is housed in Hani Emin Aga, which was used as the Headquarters of the Greek Army during the operations for the liberation of Epirus in the First Balkan War. It is a 19th century building that was used as an inn and was reconstructed in 1950, preserving all its architectural elements.
The purpose of the creation of the Museum is to present the operations of the Greek Army for the liberation of Ioannina and Epirus in general during the First Balkan War. The museum exhibits weapons (Grass and Mannlicher rifles with bayonets as well as officers' swords), decorations and medals of the Greek and Turkish armies. Also on display are photographs from the war operations, uniforms and various military relics. In a separate area of ​​the museum, the office of Commander-in-Chief Konstantinos is represented with his personal items and the Headquarters Meeting Room.
The most important relics are the watercolors of Kenan Mesare, son of the Turkish general Hasan Taksin Pasha. They depict the then prime minister Eleftherios Venizelos, Evzonas keeping watch outside the inn, the Greek soldier in Epirus, the women of Epirus carrying ammunition for the Greek Army, as well as the civilians and the wounded. Finally, Esat Pasha and the Turkish commander of the Ioannina are depicted conversing with the Commander-in-Chief Constantine after the surrender of the Ioannina.
In addition, biographies of Byzantium fighters, models of the Battle of Byzantium are exhibited in the museum. The visitor has the opportunity to watch the Battle of Byzantium with the existing audio-visual system, which was recently modernized. Entrance to the museum is free. Opening hours: Winter hours: 09.00 - 12.00 & 15.00 - 17.00 Summer hours: 09.00 - 12.00 & 17.00 - 20.00 National Holidays: 09.30 - 18.00 Contact Phone: 26450 22297
Editor: Fotini Anastasopoulou