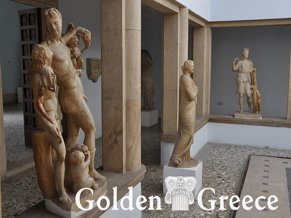 The two-story building in Eleftheria Square that houses the Archaeological Museum of Kos is a listed monument of the Italian occupation era, built in 1935.
The Archaeological Museum of Kos exhibits the finds that came to light during the excavations, mainly from the archaeological sites of the Agora and the Western archaeological site, as well as from individual monuments, such as the Altar of Dionysus, the Conservatory and the Roman House (Casa Romana). .
In the ground floor area, mainly in the vestibule, in the west, north-west, north, east hall and in the atrium, the most important works of sculpture are exhibited, as well as mosaics.
The exhibition of sculptures includes works dating from the Hellenistic to the late Roman years, presenting visitors with the most important works of sculpture from Kos.
In the vestibule stands out the supernatural head of Hera (2nd century BC) and a tomb relief with a representation of a lion.
In the western hall, statues from the Hellenistic period are exhibited, most of which were found in the galleries of the Conservatory. The most noteworthy are a statue of an athlete (3rd century BC), female figures wearing the famous Koean robes, as well as Alexander's head.
In the north-west hall is exhibited the imposing statue believed to represent Hippocrates (4th century BC), while on the walls there is a relief depicting a banquet of excellent Late Archaic art, as well as funerary sculptures of the Late Archaic and Classical periods. In the northern hall are statues of Demeter, Koris and Athena (mid 4th - mid 3rd century BC) that come from a rural sanctuary in the Pyli area. In the same room, Hellenistic statues of Aphrodite, Nymphs, Tychis (1st century BC) and a reserve complex (2nd century BC) are exhibited.
In the eastern hall, statues from the Roman period are exhibited, among them a seated Hermes as well as Demeter. In the atrium are Roman statues of Artemis, Asclepius, Hygias, as well as a complex of Dionysus and Satyr, which surround a mosaic floor representing the arrival of Asclepius in Kos (3rd century AD).
Another mosaic, from the Hellenistic era, depicting an underwater landscape (bottom), adorns the northern wall of the peristyle and comes from the restored Roman House (Casa Romana).
The first floor of the building houses the large collection of Mycenaean and Geometric period vases as well as other small finds from the older excavation periods.
Source: Ministry of Culture and Sports
odysseus.culture.gr