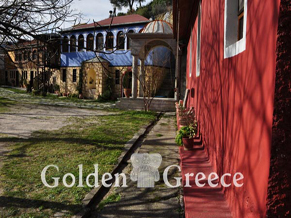 The monastery of Panagia or Kalipetra, is built on the southern slopes of Vermio, at a distance of about 10 km from Veria, near the village of Rahia. The place that is built is located in a natural hiding place formed by the flow of the Aliakmons.
The Monastery of Panagia Kalipetra celebrates the Nativity of the Virgin on September 8.
The name "Kalipetra" is probably a euphemism due to the impassability of the area. It is one of the oldest monasteries in the prefecture of Imathia, but the first information we have about the monastery is from the 16th century. The monastery flourished until the end of the 18th century.
In 1822 it was destroyed along with the other monasteries in the area as it appears from Turkish documents. After this disaster it could not recover its former glory.
The monastery suffered a second major disaster after the events that followed the suppression of the revolution in Naoussa in 1892, the monastery was set on fire by the Turks, along with the other monasteries in the area, in retaliation for the rebellion.
The operation of the monastery was maintained until 1907.
In 1941, due to the negligence of a breeder, the monastery was set on fire and completely deserted. Little information has survived of this monastery and its catholicon, about what it was like. Thus, only through oral sources can one form an image of the monastery before the destruction of 1941. So this information states that the monastery was surrounded by a stone wall, like a castle. In the temple there was also a beautiful wooden iconostasis with images of folk style from the period of Turkish rule. There were also an unknown number of books and manuscripts, all of which were destroyed in the fire, depriving us of valuable historical material.
The current monastery was built after the disaster of 1941, with the care of the Metropolis of Veria. The katholikon of the monastery is a small three-aisled pilgrimage church in the style of a basilica, with a raised central nave. Later, hostels were added so that visitors, pilgrims of the monastery could spend the night.
On September 8, the day of the feast of the Nativity of the Virgin Mary, there is a festival of the monastery during which the attendance of pilgrims is large.
Editor: Fotini Anastasopoulou