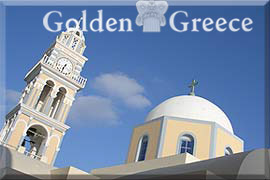 It is a Catholic Women's Monastery and is located above Fira, in Firostefani.
The monastery of Saint Catherine was founded in 1596 by a pious (Catholic) Santorinian, with the help of the then bishop Antonio de Marchis.
On the morning of July 11, 1956, a powerful earthquake occurred, with disastrous results for the residents and buildings of Santorini. All the monastic orders that had been in Santorini for centuries (Jesuits, Lazarists, Sisters of Mercy) left the island forever and only the Dominicans remained. In the mid-1980s, nuns came from a corresponding monastery in Spain, specifically from Olmedo (Castile) Fifteen nuns of different nationalities live in the Monastery, including two Greek women.
Editor: Fotini Anastasopoulou