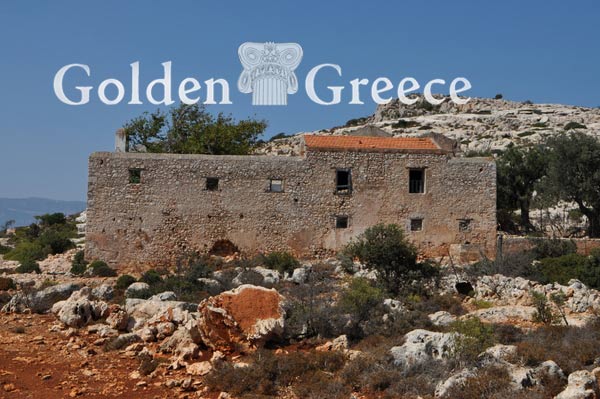 Going up towards the castle you will come across the monastery of St. Georgiou, built in 1759.
You will reach Agios Georgios of the Mountain, or Vounio, as it is called in the local dialect, from the port, climbing 401 steps, while from afar you will be impressed by its majestic figure that resembles a castle.
The monastery of Agios Georgios Vounos is surrounded by a square precinct and includes, in addition to the catholicon, cells and auxiliary spaces which are arranged around the courtyard, which has a pebbled floor.
The catholicon is a one-room church roofed with ribbed cross vaults.
It was built on the site of an early Christian basilica, from which the mosaic floor is preserved as well as capitals, which have been incorporated into the masonry of the temple inside.
According to the founding inscription on the lintel of the catholicon, we are informed that it was renovated in 1759 by the holy Anthimos from Kefallinia. The church has a wood-carved iconostasis with despotic images from the 18th century.
In the western part of the monastery there is an underground cave-like crypt dedicated to Saint Charalambos, which communicates with the temple by steps. In the crypt there is a spring and the fresco of Agios Charalambos from the 18th century.
Both the catholicon of the monastery and especially the mosaic floor of the early Christian period as well as the underground crypt of Agios Charalambos have been declared historical monuments.
Editor: Fotini Anastasopoulou