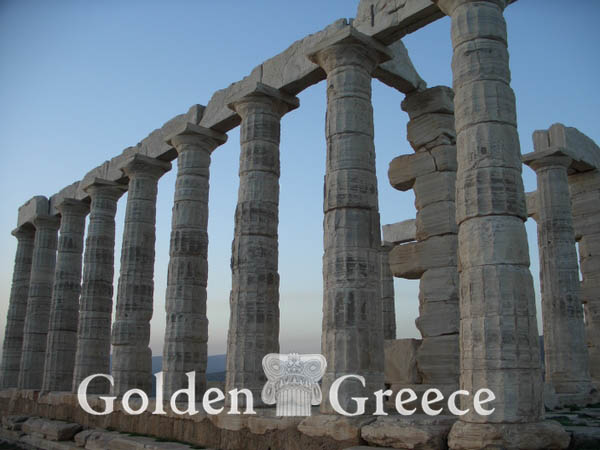 The ancient municipality of Souni belonged to the Leontida tribe and extended in the area between Lavrio, Megala Pefka, Kamariza and the cape. From ancient times there is evidence that there was a temple of Athena Souniada on the cape. In Homer's Odyssey (c 278) the ''Sounion hieron'' is mentioned where Frodis, the captain of Menelaus' ship, who died on the return journey, was buried. This reference to the sanctity of Souni is linked to the existence of a cult of a certain hero as early as the 8th century BC. The heyday for Sounio was the 5th century. BC and specifically the years that followed the Greco-Persian wars. The habitation in the area of ​​Souni since prehistoric times is confirmed by sporadic findings found in the area. At the edge of the Sounia peninsula, which is the southernmost part of the land of Attica, the Athenians established sanctuaries honoring two of their greatest gods, Athena and Poseidon. At the southernmost point is the Poseidon Mosque and 500m. northeast of it the sanctuary of Athena. But only at the beginning of the 5th c. BC the Athenians decide to proceed with the construction of an imposing temple in the sanctuary of Poseidon. This oldest temple from the end of the 6th c. BC, it was destroyed before its completion, during the Persian invasion in 480 BC. The ruins of the temple that are preserved today belong to a later temple.
On the lower hill north of the sanctuary of Poseidon, the sanctuary of Athena was founded. Two temples were dedicated to Athena, the small rectangular Doric temple of the beginning of the 6th c. BC and the younger and larger Ionic temple with an altar on its south side.
The building orgasm of the 5th c. BC the gradual decline of the area follows. In 412 BC during the Peloponnesian War, Sounio was fortified according to Thucydides. The Athenians had procured timber to fortify Sounio and thus ensure the circumvallation of their supply ships. From the 1st c. BC the sanctuaries of Souni seem to be declining. Pausanias in the 2nd century A.D. he circumnavigates the cape and wrongly attributes the temple to Athena, a fact that proves the decline of the site. However, the location of the temple remained known in later years. There were many tourists who visited the site before the start of the excavations, among which the figure of Lord Byron stands out.
The excavations at Souni began in 1825 by the Dilettanti and were of a limited extent like those of Dorpfeld in 1884. They had as a point of reference the site of the sanctuary of Poseidon. The systematic research started at the end of the 19th century, in the year 1884 by the Archaeological Society and lasted until 1915. The direction of the excavations was B. Stais who collaborated with the architect A. Orlandos.
(source: Ministry of Education & Religious Affairs, Culture & Tourism)